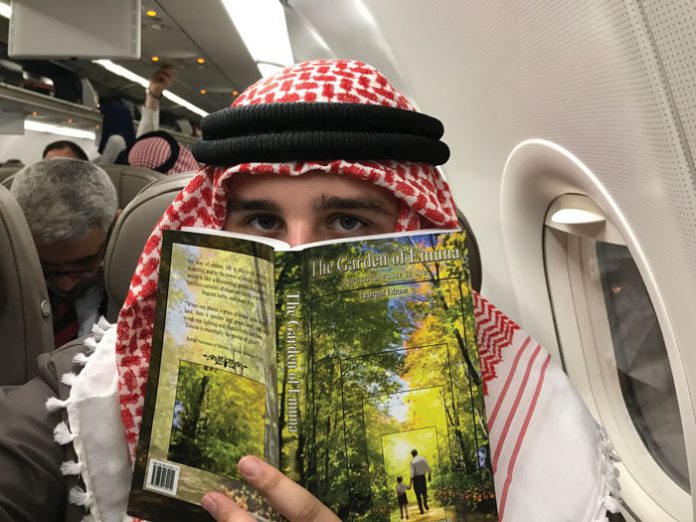 As the event wound down, I began to see throngs of people pouring out of the venue. Thousands upon thousands of Saudis were making their way into the parking lots and waiting buses that would take them back to whatever part of the country they had come from. Thankfully no one paid attention to me or asked why I was just sitting there.
A massive traffic jam ensued, with lots of honking, shouting and police barking orders through megaphones. Finally after fours hours of sitting and waiting the crowds dissipated and the cell phone coverage got better. I was able to order myself an Uber, and the driver, a kind Pakistani man, waited in the parking lot for over an hour until we were able to locate each other. I was very grateful for his patience, as I don't think many Uber drivers in New York would wait for a rider for an hour without pay. I arrived back at my hotel well after three o'clock and collapsed into bed, asleep as soon as my head hit the pillow.
Going Undercover
When I opened the door to my room the next morning, sure enough, my freshly pressed thawb was waiting for me. It was very important for me to make sure that it wasn't creased, as Saudi men are very meticulous and I didn't want to stand out in the crowd. The whole point was to be as inconspicuous as possible and blend in to my surroundings in order to see what the world looks like from inside a keffiyeh. When I donned my attire, I was immediately taken aback by how comfortable it was. The robe was light and airy, the perfect thing to wear in the Saudi climate. The keffiyeh wasn't as comfortable, but it wasn't too bad either. When I looked in the mirror I could hardly recognize myself. A Saudi prince was looking me in the eye. When I smiled and he smiled back, I was confident that we were going to have a grand time exploring Riyadh together.
I headed down to the lobby and walked over to the check-in desk, wanting to thank Abdul Rahman for having my thawb pressed. It took him a moment to recognize me, after which he broke into a wide smile. "It suits you perfectly," he said. "For a second, I really thought you were Arab."
The World's Most Luxurious Prison
My Uber driver picked me up and we headed over to The Ritz-Carlton, Riyadh. The 493-room hotel is also known as the world's most luxurious prison, thanks to a brilliant stunt that was pulled by Crown Prince Mohammad bin Salman. On November 4, 2017, a large number of Saudi princes and prominent businessmen were invited to dine with King Salman. What the invitees didn't know was that they would be locked up in the hotel until they worked out an "agreement" with the Saudi government that would secure their release. Guests staying at the hotel were notified that "due to unforeseen booking by local authorities that require an elevated level of security, we are unable to accommodate guests until normal operations are restored." Everyone was ejected and no further bookings were accepted. A notice on the hotel's website read: "Due to unforeseen circumstances, the hotel's Internet and telephone lines are currently disconnected until further notice." The hotel was off limits to "regular guests" until February of 2018. It is estimated that some of the prisoners paid as much as a few billion dollars to be released, and that the Saudi government collected upwards of $100 billion. Most of the captives have since been released, but a few were never heard from again. I was intrigued by the idea of exploring this hotel/prison, and therefore made it a point to visit.
The first thing I noticed as we got closer was the heavy security presence. The hotel compound was huge, surrounded by a massive wall with beautifully carved stone posts, arches and wrought iron. All visitors have to drive through a monstrous Greek-style archway after the vehicle and its occupants are screened by security. At that point, a three-foot tall concrete barrier lowers itself into the ground to allow it to pass.
Once my car was inside, the scene that met my eyes was nothing short of magical. A magnificent promenade approximately 1,000 feet long led to a roundabout at the front entrance of the hotel. There were two lanes heading in each direction, paved with colored stones set in impressive designs. On either side of the promenade were landscaped gardens showcasing palm trees, a dazzling array of flowers and Western-style lamp posts. The only other place I'd ever seen that was remotely similar was the Champ de Mars, the park leading up to the Eiffel Tower in Paris, which is also exceptionally beautiful but pales in comparison.